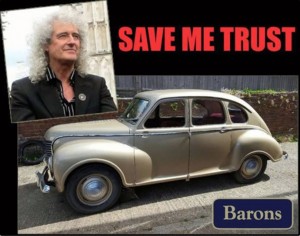 July brought another extremely busy few weeks to auctioneer for hire Duncan Brown. With on average four auction sales per week Auctioneer 4 Hire pride themselves on being probably the busiest freelance auctioneer in the UK.
So what stood out in July? Well, first of all how's about freelance auctioneer Duncan Brown having the honour of auctioneering a classic car on behalf of one of the greatest guitarists and musician ever? The Barons Connoisseurs Classic Car Collection auction sale saw a Jowett Javelin belonging to Queen guitarist Brian May go under the Auctioneer 4 Hire gavel with all the proceeds going to a fantastic cause in the Save Me Trust – Giving Wild Animals a Voice. Over £6,300 was raised for the animal charity when the 1952 Jowett Javelin he bought for his father 35 years ago went under the hammer at the sale. Enthusiastic bidding and strong pre-sale publicity meant that the car went for over top estimate, with the lucky new owner acquiring a charismatic family classic car previously owned by rock royalty.
Barons' Auction Manager, Tim Gascoigne, commented:  "As per last year, the aim of our Connoisseurs Classic Car Collection sale is to offer a smaller selection of high-quality cars, and we were certainly able to achieve that. The hall was full of interesting and top quality cars, and we've received some great feedback from customers who attended the auction. We're a family-run business that prides itself on honesty, integrity and great service, and the marketplace certainly seems to be reacting positively to that now.
 "Some wonderful cars found new homes on Tuesday, most notably the series 2 E-type and Jensen CV8. We were also very pleased that the Jowett Javelin was sold, raising a great amount of money for charity."
The best-selling lots at Barons' Connoisseurs Classic Car Collection sale at Sandown Park on July 18th were two pieces of classic British motoring heritage, both of which exceeded top estimate. The bright red 1970 Jaguar E-type Series 2 FHC achieved £51,700 while the handsome 1964 Jensen CV8 sold for just under £49,000.
If that wasn't enough excitement for Auctioneer for hire then how about this property sold at auction in conjunction with UK leading property auctioneers IAM Sold at their Great North Property Auction held monthly in Durham, UK?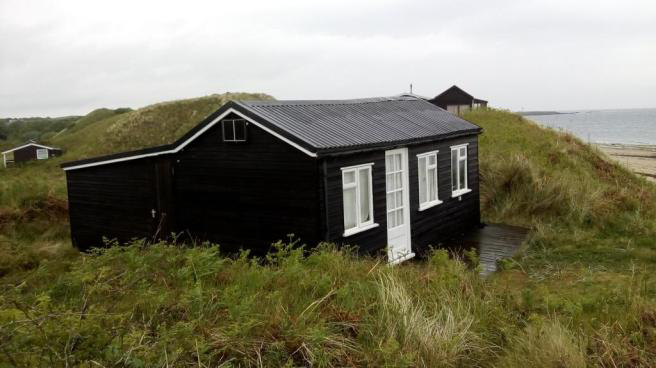 A three-bedroom detached bungalow in Alnwick, Northumberland sold for £181,000. More than three times its £55,000 reserve price!
Extract from the IAM Sold website..
Situated in Embleton Links, the pre-war chalet has far reaching views across the stunning coastline of Embleton Bay. The historic ruin of Dunstanburgh Castle dominates the horizon to the right and the rugged Emblestones, accessible only at low tide, are directly in front. Steps down to the beach are just feet from the front door. Originally built as a retreat for members at Dunstanburgh Golf Club which still shares the dunes, it has been owned for the past 50 years by a family of five children and is in need of some internal refurbishment.
Jamie Cooke, Managing Director of IAM Sold, comments: "It's not surprising that this property sold above reserve price – it's an ideal family holiday home situated amongst stunning unspoiled coast. The family were reluctant to sell but needed to for practical reasons. Prior to the auction, it attracted over 20 viewings and there was a real buzz about it in the auction room. It's rare for properties like this to come up so it attracted a lot of attention and shows that auction can really find the true value of a property when it is as unique as this. It is highly unlikely that it would have reached this price if it was offered for sale by private treaty. Ultimately, a number of people really wanted the property and were willing to compete for it."
The property was sold by the Modern Method of Auction where buyers are granted 28 days to achieve exchange of contracts from the date the buyer's solicitor is in receipt of the draft contracts and a further 28 days thereafter to complete. Allowing the additional time to exchange on the property means interested parties can proceed with traditional residential finance.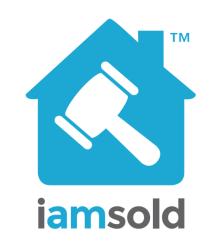 Other highlights of the Great North Property auction in July were..
Bungalow 30 Embledon Links, Alnwick – A 3 bedroom pre-war chalet with far reaching views across the stunning coastline of Embleton Bay, Alnwick, which sold for £181,000, more than three times its £55,000 reserve price.
26 East End, Stanhope- Selling for £208,000, this 3 bedroom semi-detached house with large gardens to both front and rear giving the potential for extension, achieved £18,000 above its starting price.
61 Deepdene Road, Seaburn- A 2 bedroom semi-detached house, close to the stunning sea front, sold for £125,000, £35,000 over its starting price of £90,000.
Have you got an auction sale for which you would like to hire one of the UK's leading freelance auctioneers? Auctioneer Duncan Brown is available for auctioneer duties throughout the UK and worldwide.
–