We were delighted to be back at Hampson Auctions for their recent classic car auction where one of the UK's hottest ticket hot hatches was on offer – a low mileage, low owner Ford Sierra RS Cosworth! Check it out here…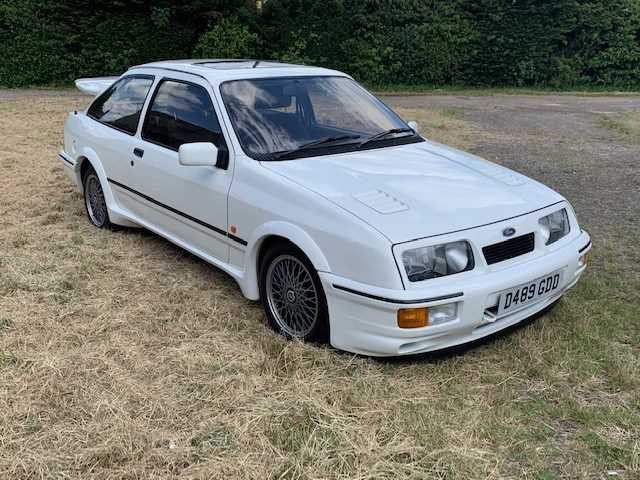 For many among the army of fast Ford enthusiasts the Sierra Cosworth remains the holy grail. The problem 35 years on from the car's introduction is finding an honest example with acceptable mileage. Well for some lucky collector, 'D489 GDD' should provide the solution, as it is a completely original, two-owner car with a warranted total mileage to date of just 35,000. Supplied new by Bristol Street Motors in 1987, the Cossie is finished in white and trimmed in grey cloth. It was apparently driven regularly until 2010, since when it has been stored as part of two successive collections, including the incomparable Bonkers* one. This splendid example of a much loved breed has just been treated to a service that included the replacement of the all-important cam belt, plus its fuel filter etc. The Sierra comes complete with its original-specification Ford alarm and stereo system, full set of Dunlop Sport-shod period correct alloy wheels, and glass tilt/slide sunroof. It is also accompanied by a comprehensive file containing its complete service history, the full set of the original owners' books, and large selection of old MOTs, plus a current one valid into March of next year. A rare and very exciting opportunity for Ford fans everywhere.
*Created by Mark Bailey, the Bonkers Collection reflects his aim of owning one example of every Ford RS model ever produced, and not just any example, but the best he can possibly find, which is a ringing endorsement for the provenance of 'D489 GDD'.
In summary:
A stunningly original righthand drive UK market example of a keenly sought model
A two owner car with full history and just 35,000 warranted miles from new
Previously a part of the incomparable Bonkers Collection of RS Ford models
Sold for £74,250
If you want to hold an auction and want the best auctioneer for the job then get in touch with us here at Auctioneer 4 Hire.